Woman at the Well in Ukraine 2008
Kathy and Clint Myrick and June Johnson
What do an elegant Jewish lady, a girl who sells herself to men for alcohol money, three women cast aside from their home church fellowship, a non-believing young woman who will not make eye contact and a doubting husband listening in at the door have in common as the sun sets in a small town along the Black Sea? They have the simple love of Jesus as he sits at the well and talks straight to their hearts. He bestows a crown of beauty on each as they piece together the story of a woman of long ago, yet amazingly so like a woman of today. So goes a Woman-at-the-Well quilting session in Ukraine. Another session takes us deep into the heart of Crimea to a dying village where life is very hard – you can see it in the thick, hardened fingers of the women as they sew together elements of real life, where some cannot stay late because the cows must be milked before darkness falls. What a joy to encounter a gregarious pastor and charming wife who truly shepherd their little flock – and be invited into their home for a "little lunch" that is a feast of the Lord's bounty from their hardworking hands. What is next as we await many other sessions around Ukraine? Let's see what the Lord provides…
Background: As an extension of June Johnson's ministry in Ukraine she invited Kathy and I to Ukraine to share the Woman at the Well Quilt Project. The project centers around a quilt block design where each of the 25 pieces of the block represent an element of the Samaritan Woman's story from John chapter 4. Women, and an occasional man, are invited to a presentation of quilting history and technique, listen to the Samaritan Woman's story and the good news of Christ as they relate the story to the quilt block, then hand-piece the block together with their quilting kit. Each leaves with a finished block as a reminder of the woman's encounter with Christ and their own decision. June's planning goes back a year on this one to prepare all the logistics for our 3-week trip (It is amazing the long lead time June uses to carefully plan her many projects so that the Lord is served with the full fruit of the resources her supporters provide to her. This one began as we sat with her in her folks' living room in Lebanon, OR last October).
Our team consisted of June, a translator and Kathy and I. Journaling the Woman at the Well Quilt Project ministry in order:
Tuesday, November 4, 2008 Batalnia (meaning "Battalion")
From Feodosia, traveled East with pastor Misha to a small village and to a former home, now church building donated by a resident who moved from the area. This church is a result of Misha's efforts almost abandoned years ago when church attendance dropped to a single person and there was no place to meet that was heated in winter. Misha had decided that the last service had been conducted when the Lord provided the house and believers have been there since. The Woman at the Well session had around 10 persons, all Christ Followers. They were excited about the visual crafts means of evangelism and at least one lady was genuinely excited to begin using it. Our translator was Inna. Her direct feedback to Kathy was to have the translator read the entire story in the quilt pattern to the group in Russian and not paraphrase it. This proved to be the successful formula for delivery of the message for the rest of the trip.
<![if !vml]>
<![endif]>                        <![if !vml]>
<![endif]>
Wednesday, November 5, 2008 Beragavoia (meaning Village by the Beach)
From Feodosia, traveled East just about 10 minutes to a summer "resort" village. In the summer the village swells to 3 times its size as European beach-goers come for holiday. This is the town where the Training Center is located. Had a detailed tour of the finished building by Nicholi. Very good hotel construction and a very pleasing respite for vacationers whose rentals will fund the greater-Ukrainian gospel outreach. We then met in the warm and friendly home of Galena with about 10 persons. Kathy had our translator Inna read the entire story and gospel presentation. A warm and friendly session occurred, even when Galena's husband, Vladimir, listening in at the door, interrupted and asked Kathy if there was symbolism in the number "6" men in the woman's life. Kathy had the best possible answer for him – she said "I don't know". He was quiet after that and retreated to another room when the sewing broke out. We learned later that several ladies in attendance had been rejected by the local church, a church perhaps distracted by the material beautification of their building. We also learned of a young woman in attendance who was suffering from a tooth-ache and other physical problems who sells herself to buy alcohol. And another fashionably dressed young woman who came at a believer's invitation. There was warm conversation after the session over tea and cookies and sharing our family pictures. Asya's mother Tania was there and we had a good conversation about Asya and her husband (Asya lives in LA but is from Crimea. She is the young woman who translated the entire project into the Russian language. I was able to meet with her and her husband in Santa Barbara in January and she finished the translation in June). Before leaving for the evening I gave Vladimir a copy of the book of John and my testimony and pointed him to John 6:40. Thank you Lord for assembling just the people that you wanted to share your Spirit with that night.
<![if !vml]>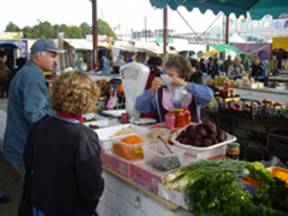 <![endif]>                        <![if !vml]>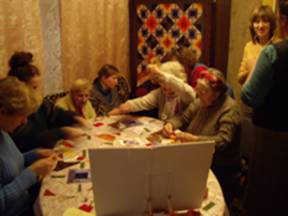 <![endif]>
Thursday, November 6, 2008 Gvardeyskoye (meaning "Guards")
From Feodosia, traveled NW about 3 hours with pastor Misha to upper-central Crimea to a tiny village of 500. We met with pastor Bagdon and his wife Tamara.  Just the evening before Tamara had ministered to a mother whose son died that night of Muscular Dystrophy. We met for lunch and saw their bounteous root cellar and canning shed. We met in their small church building with about 12 persons including two non-believers. Yana had joined us as translator. Small audience – but exactly what the Lord wanted in this small village.
<![if !vml]>
<![endif]>                        <![if !vml]>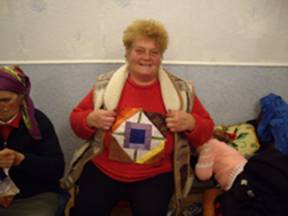 <![endif]>
Friday, November 7, 2008 Feodosia
Day of rest and productivity at the same time. Kathy and Yana, our translator, assembled 100 kits of fabric while I was able to fix June's living room door. Yana then took us to downtown Feodosia to the remnants of the fortress wall built in the 1600's. We learned of the 2,500 year history of the region going back to Greek sailors establishing the seaport. A nearby volcanic peak is the infamous Hades of Greek lore. Eye contact is never made on the streets and conversations cease as persons pass each other. This cultural trait borne from the fearful Soviet days is a constant reminder of the sadness around us.
<![if !vml]>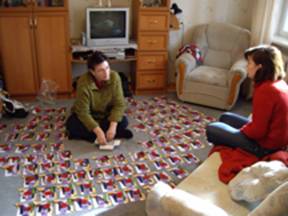 <![endif]>                        <![if !vml]>
<![endif]>
Saturday, November 8, 2008 Primorski
From Feodosia, halfway around the bay to the church building that Misha pastors. In back of the church is the building June uses as her clinic. Installed latch and lock on her medicine cabinet. The Woman at the Well session had visitors from Primorski, Feodosia, Beragavoia, Simisotka (Village of 700), Oovariava -a famous general's name, and Red Mountain). Around 60 women attended. We didn't bring enough patterns and kits so June rushed back home to bring more while Kathy and Yana went through the story and the gospel. This is the largest group Kathy has had and she began the sewing portion with clear instructions that helped keep the group from chaos. "Pin first, sew later!" Who knows the work that the Spirit wrought that day. I was able to talk with only a small group of ladies afterward with June translating. It turns out that of the 4 ladies, one lady, Nadia, from Oovariava, had invited 3 non-believing neighbors. One young woman was profoundly shy and her eyesight was too poor to do the project. I was able to learn their names and able to tell them in Russian that Jesus loves me and Jesus loves you. The tea and cookies afterward upstairs in the fellowship hall was warm and friendly. Note that the name "Nadia" means "Hope".
<![if !vml]>
<![endif]>                        <![if !vml]>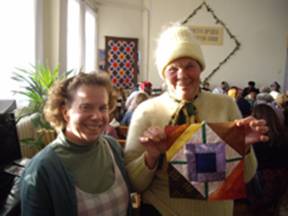 <![endif]>
Sunday, November 9, 2008 Primorski and Kerch
Pastor Misha asked me to bring one of the 3 sermons during the 2-hour service. The Lord clearly had me relate Luke 4 where Jesus read Isaiah's prophecy about himself in Isaiah (chapter 61). I talked about how I saw the ladies yesterday in this same room (the assembly hall) with the afternoon sun streaming through the windows bringing like a "crown of beauty" to the ladies as they sat by the well and listened to Jesus. I hadn't planned on speaking so short, but in retrospect this is what the Spirit wanted shared with this group – just simply the grace of Christ. In the Christ-following churches there is what I'd call a minor cultural carryover from the extreme legalism of the non-Christ-following Orthodox Church heritage. In the Christ-following churches married women must wear scarves inside a church building and no makeup. Not complying to these unwritten traditions brings a sort of "judgment" as a non-repentant. For me to remark that I saw a crown of beauty resting on these women was the essential message I think.
Mid-afternoon we traveled with one of Misha's sons, Vania, East to the famous port city of Kerch. We were driven to the hill above town with a clear view in the setting sun of the entire city and we could see land of Russia across the channel. A few blocks away from this viewpoint, built on the ancient city tel was the church building where we met with the congregation and shared the Woman at the Well session for around 40 persons in place of their evening service. We will not know what fruit was harvested.  We are planting lots of seeds and food for thought.  The Lord will do the harvest. We learned of one young woman who talked with Eger the pastor afterward about spiritual things; a woman who had visited the church a couple times. During the session I saw a man sitting by himself in the back and sat next to him and introduced myself, gave him a packet and he indicated he couldn't do the project due to eyesight or head-problems. I left my name and read and underlined John 6:40 in his copy of the book of John. The next time I looked he was gone, but I was glad to have made him feel welcome. We learned from pastor Eger later that in that man's former life of drinking he had been severely beaten and suffered from head injuries. Kathy spent some time with a young man with a bad burn on his face. Several people had tried to help him with his quilt block but he was not doing well. She took him through the process one step at a time until he got it and was smiling widely because he got it! Moments like this of bringing God's love are precious. We were packed up and facing an hour drive home at about when the pastor rushed out to tell us "the Borscht was ready!" A warm kitchen in the rear of the church building brought us nourishment and fellowship with pastor Eger and wife and children and a lady servant of the church who prepared the food. Eger, a gentle man with the singing voice of a angel has MS and is beginning to have trouble with his legs. We pray for his ministry. Eger apologized dinner was late because he wanted to talk to the young woman mentioned above – perfect timing in the Lord's plan for the ministry that evening.
<![if !vml]>
<![endif]>                        <![if !vml]>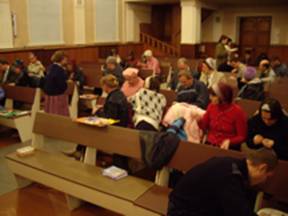 <![endif]>
Monday, November 10, 2008 Feodosia
Day of rest and productivity. I was able to fix another door in June's home. June asked if we would have enough materials for the remaining ministries and we decided to prepare another group of kits. This gave us a reason to visit the fabric store downtown and pick up June's mail at the post office. I purchased a page of stamps as a souvenir of Ukraine which I will later frame. I must mention "the dogs of Ukraine". There are stray dogs and cats everywhere. They are busy surviving just like the people do, with maybe one key difference – they make eye contact with you on the street. Along the walk to downtown we passed a dog whose hind legs were not working - he was literally dragging himself down the sidewalk. He would look at each person as if to say "who will help me?" It was the saddest sight I have ever seen knowing there was nothing I could do for him, but a powerful reminder that I can share the grace of Jesus Christ with those he brings across my path in life. Not only am I able to do this, but I must – the love of Christ compels me to do this.
Kathy did her wonders choosing fabric that would coordinate in the small fabric shop June took us to. She also bought straight pins that had an interesting loop as the head. As we were leaving we left a pattern and packet for the proprietress and June briefly explained the project. She asked us if we were happy with our new (newly elected) president and I answered simply that we were not, that he was a man who did not fear God. I have since felt badly for having judged a man.
While waiting for June Kathy made the cultural mistake of sitting on the sidewalk to rest – pagan beliefs in the current culture would say this brings barrenness to a woman (and I have a picture)!
<![if !vml]>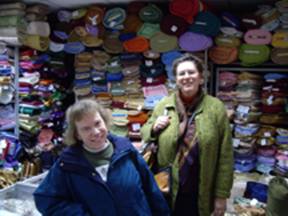 <![endif]>                        <![if !vml]>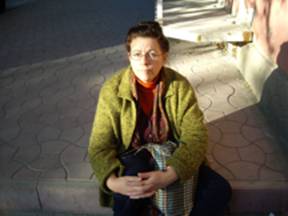 <![endif]>
Tuesday, November 11, 2008 Zorkino (meaning Village where the Sun Rises)
June arranged Misha to drive us to a remote region, this time to stay at Victor and Olga's house in the small village of Yutenia (Cozy Village). It is about an hour and a half and Misha and I have a good conversation about the church in Ukraine, Tatr peoples, and the need to separate politics from the church. Church planter Alexei took us to the small village of Zorkino to meet in a small home. There were about 8 believers there for the ministry. I was deeply discouraged that night because there were only believers there. Where were the non-believers?! I was counting the immense cost of bringing this project to Ukraine. I also told the Lord that for the project to continue beyond Ukraine that he had to provide the finances. I am ashamed to confess this lack of faith as well as having my faithful partner remind me that I had similar lack of faith at points on our two Venezuela missions.
<![if !vml]>
<![endif]>                        <![if !vml]>
<![endif]>
Wednesday, November 12, 2008 Mehalivka (meaning Michael's Village)
In the morning I shared the Lord with Olga and Victor's garden helper while sitting at their kitchen table. I learned from Victor later that there was some desperate sin in this man's past that kept him from the Lord. What? This is not what is supposed to happen – it is desperate sin that the Lord wants to forgive! I had unfinished business with the Lord from the night before and I took Olga's bicycle to the edge of town and confessed to the Lord the rebellion in my lack of faith the previous evening. I again placed the entire ministry into his hands and asked him to do what he wills with every detail and every plan in the sessions. We were in Ukraine at his request and I had to leave it all up to him. Kathy visited with Olga via Alona the translator. Olga shared her incredible testimony and how God brought Victor to the faith. She also discussed Olga's diabetes and Kathy was able to advise her a bit from her own experience. That evening we met in pastor Victor's church building. There were perhaps 12 people in attendance. Completely at peace in whatever the Lord had planned, I found my job was keeping 5 small children occupied while their two believing mothers could do the project and Kathy could concentrate on her work. During the tea and fellowship afterward I met 2 non-believers and a sad young woman whose sister had died. We shared our family pictures with them and learned their names. We learned later that one non-believer has been afraid that God could not love her because of the many abortions she had experienced. Thank you Lord for the grace you brought to that evening! My confidence that the Lord would execute perfectly whatever he had planned for the remainder of the sessions would remain for the rest of the trip.
(Severe headache that evening – I ate 5 cookies at the tea, trying to accommodate the advice to eat what was offered to us. This was my first dose of sugar in a couple years and what a reaction. A great reminder of the need to stay disciplined with a healthy diet – when I return to America of course).
<![if !vml]>
<![endif]>                        <![if !vml]>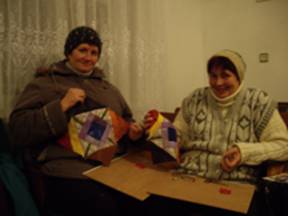 <![endif]>
Thursday, November 13, 2008 Yutenia (meaning Cozy Village)
An interesting development today - the 4th small village ministry was canceled for an unknown reason and we were presented the option of returning to Feodosia for rest. I sensed something better and suggested that the Lord may have something different planned – turns out we would not know about the plan until the next day.
That evening we were in the village home of Victor and Olga whose home we stayed in for 4 nights while ministering in the area. The Woman at the Well quilt hung on their outer gate – I'm sure causing no small conversation in this three lane village. Four of Olga's neighbors and a neighbor friend of Alexei's wife from a different village came for the session. We learned that one woman had kept away from the church for 14 years because she wanted to wear makeup. Our hearts broke for her. She later gave Kathy a Ukrainian scarf that will be treasured. What a privilege to share the grace of Christ in such a setting – in this case a humble kitchen in the middle of Crimea. Olga also sung a Woman at the Well song during the session and Victor couldn't help but preach a small sermon while having this tiny audience in his very own kitchen – wow – there was a lot of gospel that night!
Note: It was very amusing to us when in the middle of the session a cell phone would go off and a grandma would start chattering away in Russian; and then another cell, then another – what an odd mix of rural life and technology!
<![if !vml]>
<![endif]>                        <![if !vml]>
<![endif]>
Friday, November 14, 2008 Ezabelnia (meaning Village of Abundance) and Neshnigorsk meaning Gentle Hills)
Rising with the chickens and enjoying too hearty of a breakfast, we settled in for Kathy and translator Alona to stuff packets and me to shuck eyes from seed potatoes. We think about phoned the pastor in a small village near the Sea of Azov (far Eastern edge of Crimea) and set up a session – just like that. This pastor's wife took her bicycle throughout her whole village that morning inviting many women and then cleaned the church building for a start. Victor drove us to the village and 25 women came including 16 non-believers. They were able to relax, sew, learn about quilting and hear the great news. You cannot humanly make such perfect plans. We received an alert about an hour and a quarter into the session that many would have to leave soon to milk their cows. Kathy oversaw the essentials – that they understood the identification of the block elements to the Samaritan Woman's story, the gospel, and of course how to finish the quilt block. A quick tea and cookie wrap up and we were done – but it felt that exactly what was supposed to happen did indeed happen that night. And we were not finished. While leaving, two ladies selling fresh fish brought them to the pastor's house. We knew they were fresh because they were still wiggling as they held them up! The pastor purchased several for a foster home in a town we would drive through on our way back. We drove to the town and we were able to visit the home, greet the children and Kathy sat at their kitchen table and presented the ministry to the mother and her pregnant oldest foster child. An interest grew and we left materials for her to share with the children's ministry in that town. This was what the Lord provided for us on the day when our schedule had been cancelled! We could clearly say with the psalmist "Your road led by a path through the sea – a pathway no one knew was there!"
<![if !vml]>
<![endif]>                        <![if !vml]>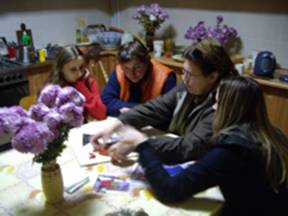 <![endif]>
Saturday, November 15, 2008 Kiroskya (a WWII general's name) and Sineatza (meaning Wheat Village)
Bidding an early morning goodbye to Olga, Victor drove us back toward Feodosia for a 9 AM session at a church building in Kiroskya. We had trouble finding the building in this aging Soviet-days town and arrived late. We quickly set up – I must mention that the team has learned at this point to set up quickly and efficiently. June jumps in and sets up the "ironing station". Kathy and the translator pick the spot to present from and set up the flannel-graph board and pieces and I apply "sophisticated engineering techniques" to hang the quilt from whatever is available to hang from – well, I must appear useful!
After we are set up we learned that there has been confusion over the start time at this location with only one member of the church coming. Kathy held the session for this lady along with the pastor's wife who was at the building but strangely we could sense that it was the Lord's will preventing the ministry at this location. Amazing to witness this. The four of us also felt incredibly tired after four days of village farm life ministry. Yana's mother picked us up at this location and drove us to Sineatza. This afternoon session brought believers and non-believing friends together. We were in a small room blessed with wood stove heat. We remember the older believing lady with eyesight so poor she held the fabric an inch from her eye to appreciate its color and her face an inch from the quilt to discover its arrangement. We remember the believing lady who had a recent heart attack and who had no feeling in her left hand as she made her block and the believing lady who sang a verse from the Woman at the Well song. We remember Tania, a woman of about 35 that I talked with after tea and shared the gospel again through our translator Alona. Her mother Nadia (meaning Hope) has prayed for years for her. There was the most sparkling smile on eleven year old Dasha who completed her block with her non-believing mother. And there was the non-believing 'home economics' lady who oversaw her four 12 year old charges in completing their blocks. The work was accomplished and this group latched on to the idea of fellowshipping this way and inviting non-believers. We looked forward to Sunday and rest.
<![if !vml]>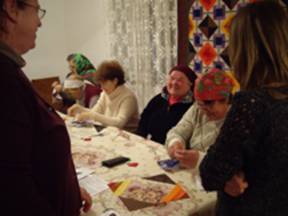 <![endif]>                                <![if !vml]>
<![endif]>                               
Sunday, November 16, 2008 Feodosia
"Shout to the Lord all the earth let us sing. Power and majesty, praise to the King!" – the words came from our lips in English while the small group of believers at Serge and Inna's church sang in Russian. Imagine his children singing this same song all over the world – tears of joy. Probably only a dozen of us, but what a beautiful worship service in that 2nd floor rented room in an old building. Serge asked me to bring a message and I spoke of the history of Jacob's well (the same well exists today) up to that ultimate encounter where Christ revealed his very self to that woman he valued so long ago. Yes, like Moses assured the Israelites, "Jacob's spring is secure". After tea, cookies and fellowship one of the church members remarked that the news always seemed to show a major disaster in America like hurricanes, fires, etc. We spent the afternoon at Serge and Inna's home (Serge had me pick out crown molding for their remolded apartment ceilings) then to Junes' for the night.
<![if !vml]>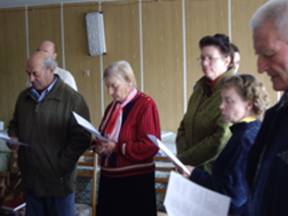 <![endif]>                        <![if !vml]>
<![endif]>
Monday, November 17, 2008 Travel to Berdyansk
Taking over 5 hours, we drive North from Crimea to mainland Ukraine to the large industrial port city of Berdyansk on the Sea of Azov. Dramatic economic difference was evident the further north we traveled. We met Jonathan and Heather, CMF missionaries from Atlanta and their two little girls. It was sweet to hear the girls as we entered their apartment, "We know what they are, they're Americans". Heather prepared good old fashioned American-style spaghetti for lunch. Kathy "needed" to check out the fabric store and Jonathan took us on a short tour of the city. We stayed the next four nights at Lyuda and Artur's home.
<![if !vml]>
<![endif]>                        <![if !vml]>
<![endif]>
Tuesday, November 18, 2008 Berdyansk
The team prepares for an evening session at the local church (same church that has a clinic June supports through Era). No one knows what to expect but the church has asked the ladies to bring one friend. The men of the church have come to serve with set up and to prepare the food for a tea afterward. You would think we could see the Lord's thoughts by now, but each time we set up chairs, more women would come. Final count was about 50. Kathy's translator for this area was Lilia – an incredibly astute interpreter who had marked up her copy of the pattern notes with all sorts of enhancements to convey sentence structure the way a Russian-language speaker would think! She also read the story with evident conviction. What came about this glorious evening – we will not know for "yet a little while". We did hear of one lady talk of the similarities of the Samaritan Woman and the numerous men in her own life. We also know of a young mother with the impaired son June talked about in a recent update. June was happy to see the joy on this mother's face as she was refreshed from the evening. What an incalculable blessing to know we are doing exactly what we are supposed to do, which is to share the Name above all names.
<![if !vml]>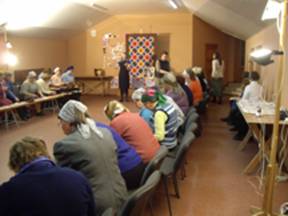 <![endif]>                        <![if !vml]>
<![endif]>
Wednesday, November 19, 2008 Lunacharsk
Pastor Artur's small group of believers meets in a music school in this small village only 4 KM from Berdyansk. Interesting start to the event: When we got into the car Artur said to pray for entry to the music building since he had lost the key. He also said to pray for fuel since the car was on empty and there was not time to fill up before our scheduled start. We prayed to ourselves – just part of the living adventure to see what the Lord would provide. We arrived without running out of fuel but the building was dark. Artur went around the building and it turns out that an electrician was inside doing some unforeseen work – so we got in. A small group slowly trickled in including a young man who was a little off mentally. Turns out he is a regular attendee at the fledgling church that meets there and his mom had been invited but was not there that evening. We started with eight persons. After Kathy began Artur went out to procure gas for the return trip and we think he stopped by the young man's home and invited his mother and his mother's friend and her husband to come. When they arrived about the time the sewing started Kathy did a quick recap of the element's meaning in the Samaritan Woman's story and they settled in. It was a small room but participants had fun. After tea and cookie time and as the mother of the young man was leaving, Artur invited her to attend the church services. We overheard her telling Artur of her embarrassment over her son and how she could not attend despite Artur's reassurance that he was not a problem and that it was alright to attend. Our hearts broke for this woman who was so embarrassed of her own son. I gathered the mother, son, mother's friend and husband for a group photo that they seemed to enjoy. We are left with only our supplication to the Lord to change their hearts.
<![if !vml]>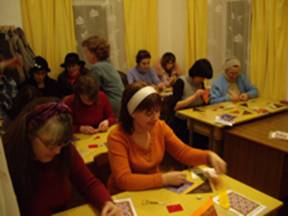 <![endif]>                        <![if !vml]>
<![endif]>
Thursday, November 20, 2008 Berdyansk
One of the gifts the CMF missionaries in Ukraine seem to have is an openness to the Spirit's lead in various forms. We saw this in June's medical and vacation bible school outreach (and the Woman at the Well quilt outreach vision), in Cory and Janice's exemplary patience with the church network they work with and with Jonathan and Heather's outreach to the deaf in Berdyansk. Flexibility is what the CMF team has. Through the deaf ministry a session was set up on our final afternoon, our 14th and final Woman at the Well ministry in Ukraine. This was in a deaf-club meeting. 16 attended 9 non-believers. We anticipated it would be a special time with Kathy being able to talk about her own hearing loss. And it was indeed special. Who knows what was accomplished, but we know that it was just what the Lord planned. It was just amazing to see Kathy talk in English, with her Russian language translator speaking to the Sign language translator (whose native tongue is Ukrainian), who in turn shared the good news straight from the Lord's heart - as Isaiah reminds us, "In that day the deaf will hear the words of the scroll, and out of gloom and darkness the eyes of the blind will see"!
<![if !vml]>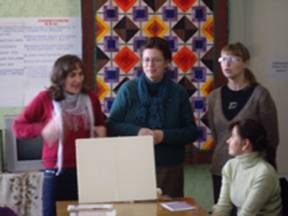 <![endif]>                        <![if !vml]>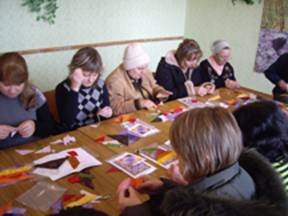 <![endif]>
<![if !vml]>
<![endif]>
Summary of the trip – We think what Isaiah said above is what indeed the trip was all about. We could see the Lord's gentle persuasion about his free gift of living water with all of the woman (and some men) who sat by the well with him. We could also see that the project was a ministry of grace to the believers of Ukraine where people take a long time to trust and a long time to build relationships. The Lord seemed to show us these things. We may have been seed planters or we may have been harvesters – we won't know what came about while we were there, perhaps not until we get to heaven. Praise him! We are content to do his will. We do know the Lord certainly prepared the path through the Russian translation work of Asya, through the ladies of Grace Community Fellowship in Oregon who helped prepare the 10,000 pieces of fabric used, through June's unceasing logistic work and the labor of constantly helping ladies thread a needle or iron their handiwork or offer encouragement, through the translators that worked hard with communication of the good news, and through the many believers who brought their friends to the well. We join our voice with the Spirit and the Bride who say, "Come!" Let those who hear this say, "Come!" Whoever is thirsty, let her come; and whoever wishes, let her take the free gift of the water of life.
<![if !vml]>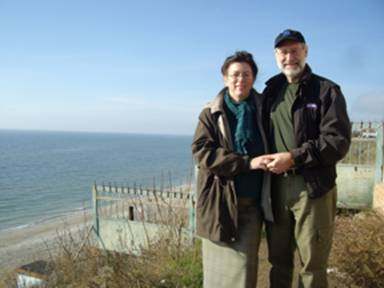 <![endif]> 
Kathy and Clint Myrick, Sea of Azov 2008
For more on the Living Water Quilt project, visit www.LivingWaterQuilts.org