Home
A leader of a Living Water Quilt session will always be successful when she understands that this is all about sharing the Word of God. It is that same Word that changed a woman so many centuries ago and the same Word that changes women's lives today. It is not about "teaching quilting" or "fellowship with friends", or exploring "entrepreneur potential" - those are simply blessings that come out of the process. It is all about sharing this great and wonderful news, the words of God Himself. This is why you as a leader of one of these groups need not worry about the outcome, it is already taken care of. Remind yourself of what the Lord said in Isaiah: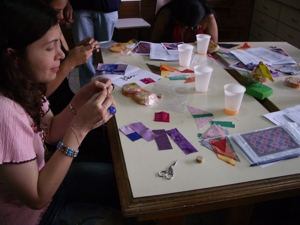 As the rain and the snow

come down from heaven,
and do not return to it
without watering the earth
and making it bud and flourish,
so that it yields seed for the sower and bread for the eater,
So is my word that goes out from my mouth:
It will not return to me empty,
but will accomplish what I desire
and achieve the purpose for which I sent it.
So with the Lord doing his part, it is now up to you to prepare. Plan right away for help - the more people that help, the more the blessing that will be shared. Here's a quick checklist to get things going:
[] Settle on the place and the date of the session. It will work in a home or in a classroom at a school or church. We've even had one in a quilt shop.
[] Determine how you will let women know of the event. Will it be by personal invitation, an ad in a newspaper, or perhaps posters where they will be noticed. There is a template for posters at these links (English), (Spanish), or (Russian).
[] Determine how you will obtain the patterns to be given away to each woman free-of-charge as well as a copy of the gospel of John. The patterns may be downloaded subject to the conditions of the copyright and printed for handout. The gospels may be ordered direct from the supplier. Or the complete pattern packet may be ordered from Living Water Quilts. This link shows the components that go into the pattern packet.
[] Assemble fabric packets. Remember the woman in the gospel accounts who had tried for years with doctors to cure her bleeding problem? When great crowds were pressing in on Jesus one day she struggled to touch him for healing. It is recorded that she said to herself "if only I can touch the edge of his garment I will be healed". She did, and she was healed. Jesus explained to her that it was her faith in him that had healed her. Now imagine as you are preparing hundreds if not thousands of fabric pieces that the women in your group will "touch". Will their faith in Jesus be kindled by a simple piece of fabric? Follow this link to view and print Kit Preparation Instructions.
[] Hold your session and celebrate with the Lord as you communicate his message!
[] Very Important: If any of the women in your session accept the Lord or recommit their life to him, it is essential that you make sure they become connected to a Christ-following church. Your own church is a good place to start with an invitation to them. Don't let them drift - you need to insure they are discipled.
[] Take a moment and log your experience into the Living Water Quilt website via the "Record Your Experience" link. In this way women all over the world may see what the Lord is doing through faithful servants like you.